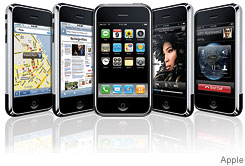 I know everyone who reads this blog is aware that my love for my iPod is unhealthy knows no bounds. And it's probably my only entertainment-related obsession that Gina doesn't scold me about, because Gina is the one who bought it for me.
Not long ago, I posted here that my dream electronic device was a combination of my cell phone, my iPod, and my laptop, and a number of people said, "Fear not! Such a device is at hand! It's called the iPhone and it will be all that and more!"
And it sort of is, except, you know, it's not, because this thing has EIGHT PATHETIC MISERABLE GIGS OF STORAGE SPACE ON IT.
Hello, Apple! Not only do I have 14 gigs of music on my 60 gig video iPod, I have 30 gigs... THIRTY GIGS ... of television shows on here! What exactly am I supposed to delete?
So, you can read my music woe review over here on club.kingsnake and my careful explanation of why this lack of storage on the iPod is a big anti-gay plot over here on AfterElton.com:
This is a serious issue, Apple. If I'm sitting in the waiting room at my vet's office or getting a pedicure or on an airplane, and I'm struck with the sudden and uncontrollable urge to watch Xena and Gabrielle take a long, hot bath together, or Brian and Justin twirling around at the prom, I can't do it.
Anything that interferes with the Xena is just wrong. So be very careful if you buy this thing.