I was ranting the other day on AfterElton.com that I have a thing against artsy films that don't tell a story or have compelling characters. I feel the same way about books. I certainly think filmmakers and writers should create whatever they want to create, and not worry about what I think; I'm all about the freedom of expression. But me and art films and literary fiction, not so much.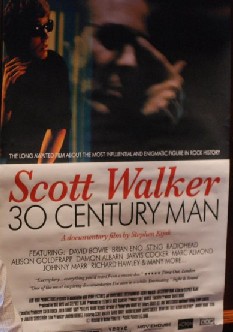 Along with liking stories, I like songs. When I interviewed him, I had to admit to Stephen Kijak, who made a brilliant and not at all "art film" biography of musician Scott Walker, that I, like other heathens among Walker's fans, don't care for his more experimental recent works. I suck. I freely admit it.
So, I have a playlist on my iPod called "Just Sing." It has a lot of songs that I love because they're, well, songful. So I set iTunes to randomly shuffle just that playlist, and here is a songful random ten:
1. Don't Let the Teardrops Rust Your Shining Heart by Everything but the Girl (ever so slightly biographical although I'm the "you"):
I used to drive all night for you
While the children were asleep
And as the dawn broke on your room
Back into my house I'd creep
Where my husband slept alone
Of course he must have known
But we always hide the truth
For fear of losing what we own
2. Deeper Well by Emmylou Harris (from the incredibly brilliant Wrecking Ball, an album Stephen Kijak turned me onto, so maybe he won't hate me forever):
I went to the river but the river was dry
I fell to my knees and I looked to the sky
I looked to the sky and the spring rain fell
I saw the water from a deeper well
3. Angel of Harlem by U2:
Blue light on the avenue
God knows they got to you
An empty glass, the lady sings
Eyes swollen like a bee sting
Blinded you lost your way
Through the side streets and the alleyway
Like a star exploding in the night
Falling to the city in broad daylight
An angel in Devil's shoes
Salvation in the blues
You never looked like an angel
Yeah yeah...angel of Harlem
4. Hunter's Lullaby by Leonard Cohen
Your father's gone a-hunting
Through the silver and the glass
Where only greed can enter
But spirit, spirit cannot pass
5. Valentine's Day is Over by Billy Bragg
Thank you for the things you bought me
Thank you for the card
Thank you for the things you taught me when you hit me hard
That love between two people must be based on understanding
Until that's true you'll find your things
All stacked out on the landing
Surprise, surprise
Valentine's Day is over
6. Breakdown by Melissa Etheridge (lesbian couples never break up, we just call each other at 3 am):
So you're having a breakdown
So you're losing the fight
So you're having a breakdown
And you need me tonight
I found my place in this downtown
Salt air and yellow street lights
So you're having a breakdown
And I'm driving and crying
Unraveled and flying
I'm coming to your breakdown tonight
7. The Moon and St. Christopher by Mary Chapin Carpenter:
Now I've paid my dues because I have owed them
But I've paid a price sometimes
For being such a stubborn woman in such stubborn times
Now I have run from the arms of lovers
I have run from the eyes of friends
I have run from the hands of kindness
I have run just because I can
8. Diamonds and Rust by Joan Baez
Now I see you standing
With brown leaves falling around
And snow in your hair
Now you're smiling out the window
Of that crummy hotel
Over Washington Square
Our breath comes out white clouds
Mingles and hangs in the air
Speaking strictly for me
We both could have died then and there
9. Crying by Roy Orbison and kd lang
I thought that I was over you
But it's true, so true
I love you even more than I did before
But darling, what can I do?
For you don't love me
and I'll always be
Crying over you, crying over you
10. A Rainy Night in Soho by the Pogues (I have never listened to this without crying. Never):
I'm not singing for the future
I'm not dreaming of the past
I'm not talking of the first time
I never think about the last

Now the song is nearly over
We may never find out what it means
Still there's a light I hold before me
You're the measure of my dreams
The measure of my dreams
Okay. Ten songs. Not just music. SONGS. Gimme.