I'm heading out Thursday morning to cover the Xena: Warrior Princess convention in Burbank, CA. I'm sure I'll find lots of deep, meaningful social issues to cover, and that there will be much important social criticism included in the article I'll write about it for AfterEllen.com.
Or, I may just faint dead at Lucy Lawless' and Renee O'Connor's feet and that'll be the last you ever hear of me.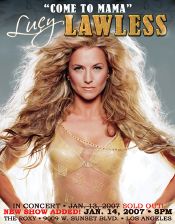 I'm also going to see Lucy Lawless in concert while I'm down there. I nearly fainted when my boss over at club.kingnsake.com said he expected me to review the concert over there... I'm like, okay, there is NOTHING alternative about Lucy Lawless' singing. Trust me on this. He's all, XENA. XENA makes it alternative. He then went into some long story about David Hasselhoff and I guess his point was, hey, if it's not stadium rock, it's alt enough for him.
Let's hope I can find something more profound to say than "Guh." Based on my experience watching her on Celebrity Duets, I wouldn't count on it.
I'm going with KT, and we'll both have laptops, so I'll try to blog from there, even though I wasn't able to do that from New York since the Soho Grand, while a wonderful hotel, had the world's suckiest wireless internet. Hopefully the big Burbank convention hotel will do better.
I may also spread Gale Harold's cold to the Xena fandom. Talk about a crossover.